CoolAIR AD Manual Radiator Fan Switch RFS-006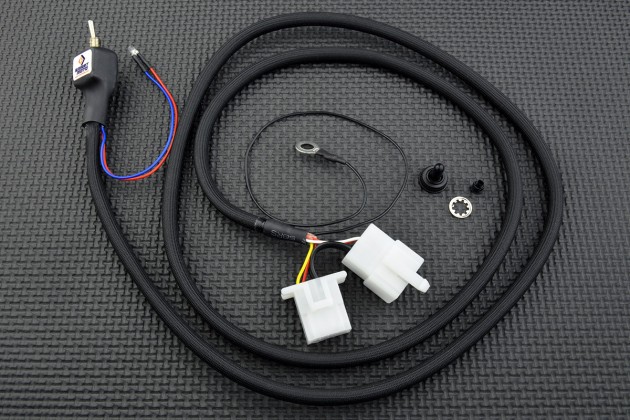 Express Worldwide Shipping
CoolAIR AD Manual Radiator Fan Switch RFS-006
Availability:

In Stock

Product Code:

RFS-006
Express Worldwide Shipping
The CoolAIR AD Manual Radiator Fan Switch by SmartMoto allows the manual activation of the radiator fan. This allows you to keep the engine temperature low when you ride at low speeds, waiting in traffic or in any other prolonged idle operation.
There are a lot DIY mods out there that allow you to modify your motorcycle's wiring at the cost of splicing the harness or even worse, damaging the electronics.
Newer motorcycles feature an advanced cooling system that is controlled by the ECU. The ECU reads the temperature from a sensor and activates the radiator fan when the temperature rises above a pre-set level. By activating the radiator fan sooner, you prevent the engine from overheating.
SmartMoto Wiring Harness products combined with the SmartMoto MultiCB™ technologies bring the CoolAIR AD Manual Radiator Fan Switch that simply connects between the radiator relay and the wiring harness without any non reversible or risky modifications. It also incorporates an intelligent design and even when turned OFF it maintains the standard radiator fan operation; the fan will be turned on normally when the coolant temperature reaches the pre-set level.
Key Features
Keeps the engine temperature at low levels and protects the engine from overheating in traffic.
Perfect when performing maintenance tasks on your motorcycle that require prolonged idle operation, such as TPS adjustment.
Intelligent design that keeps the standard radiator fan operation when the CoolAIR switch is turned off.
LED indicator with LED holder for panel installation.
Cable length: 190cm.
SmartMoto MultiCB™ is a unique circuit design method that focuses on creating devices that are small, weatherproof and reliable. We achieve this by using advanced PCB design software and innovative methods that combine multiple circuit boards, protected by a premium epoxy resin. This approach is similar to how leading motorcycle manufacturers make their products, resulting in devices that are extremely durable, dependable, and compact. As a result, our products are built to last and seamlessly integrate into motorcycles without taking up unnecessary space or adding extra weight.
SmartMoto Wiring Harness products is a series of design and manufacturing methods developed by SmartMoto that focus on creating reliable motorcycle wiring harnesses. To ensure perfect compatibility, we only use connectors and cables that are of OEM specifications. The wiring is enclosed and protected by a special PVC or silicone sleeve and the connectors and joints are insulated in a heat-shrinkable tubing with glue. Also, when necessary smd parts on printed circuit boards are prioritised over through-hole parts. This guarantees lifetime durability and reliability even under harsh riding conditions.
Aprilia > Dorsoduro 750 > 2008 - 2016
Aprilia > Dorsoduro 900 > 2017 - 2020
Aprilia > MANA 850 > 2007 - 2016
Aprilia > RS 660 > 2020 - 2023
Aprilia > RSV 1000 R > 2004 - 2010
Aprilia > RSV4 1000 > 2009 - 2020
Aprilia > RSV4 1100 > 2019 - 2023
Aprilia > Shiver 750 > 2007 - 2016
Aprilia > Shiver 900 > 2017 - 2020
Aprilia > Tuareg 660 > 2021 - 2023
Aprilia > Tuono 660 > 2021 - 2023
Aprilia > Tuono V4 1000 > 2011 - 2014
Aprilia > Tuono V4 1100 > 2015 - 2023
Moto Guzzi > V100 Mandello > 2022 - 2023