PAIR Valve Removal Kit with Block Off Plates PLE-205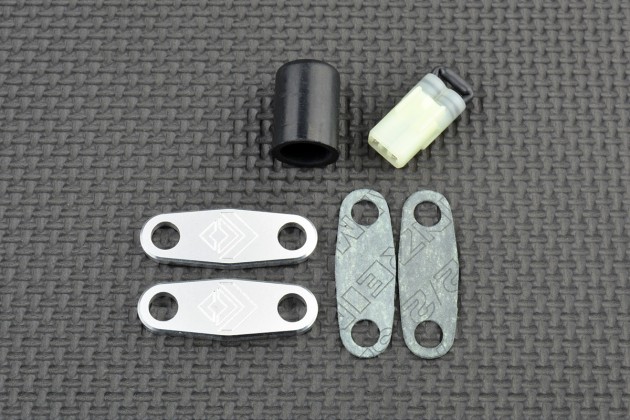 Express Worldwide Shipping
PAIR Valve Removal Kit with Block Off Plates PLE-205
Availability:

In Stock

Product Code:

PLE-205
Express Worldwide Shipping
The PAIR Valve Removal Kit with Block Off Plates by SmartMoto replaces the secondary air injection system on a motorcycle, allowing the complete removal of the system and all the associated parts.
The secondary air injection system (PAIR) routes fresh air from the airbox to the exhaust system in order to aid the combustion of unburned fuel in the exhaust. This system is designed to improve emissions on stock exhaust systems, but will cause exhaust popping and backfiring when you fit aftermarket exhausts.
SmartMoto CNC machined parts bring eye-catching block off plates, combined with SmartMoto Complete Sets providing every component you need to eliminate the secondary air system, all in one convenient package.
Key Features
Eliminates exhaust popping noise on deceleration and backfiring typically associated with aftermarket exhausts.
Achieves true A/F ratio for fuel tuning. A/F ratio measurements are reliable.
Free up engine space.
Can improve throttle response when used with full aftermarket exhaust systems.
This kit enables you to remove the PAIR system completely, including the valve, the PAIR covers and the associated tubing.
Legal Notice!
Installation of this kit is intended for closed circuit competition purposes only. The purchaser of this performance kit acknowledges that it is not intended for street use.
SmartMoto CNC machined parts is a series of design and manufacturing methods developed by SmartMoto that focus on providing aluminium parts with precision machining and high quality finishing. We carefully select aircraft-grade aluminium due to its lightweight nature and excellent machining properties. Through special treatment, we achieve a stunning matte finish and captivating engraving. And to ensure precision in production, we utilise cutting-edge software and advanced metric equipment. With SmartMoto parts, you can be sure of quality finish, perfect compatibility and seamless fit.
SmartMoto Complete sets is a product development approach that focuses on delivering complete and high-quality kits. To ensure that all eliminator kits are a perfect fit, we conduct thorough research and testing on all the necessary components needed for each modification. This includes stainless steel bolts and washers, special heat-resistant rubber caps, and exhaust blanking plugs. We make sure that all the required components are included in one convenient package. The electronic eliminators are designed with OEM connectors for seamless compatibility, and the electrical parts are protected by durable heat shrink tubing, ensuring long-lasting performance. With SmartMoto, you can count on complete kits that offer flawless compatibility, lifetime durability, and reliable performance.

Suzuki > C50 Boulevard > 2005 - 2022
Suzuki > C800 Intruder > 2005 - 2019
Suzuki > C800 Volusia > 2005 - 2008
Suzuki > M50 Boulevard > 2005 - 2019
Suzuki > M800 Intruder > 2005 - 2019