O2 (Oxygen) Sensor Eliminator kit OSE-425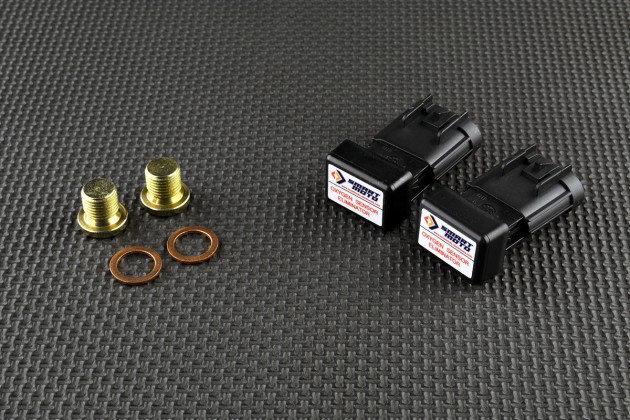 Express Worldwide Shipping
O2 (Oxygen) Sensor Eliminator kit OSE-425
Availability:

In Stock

Product Code:

OSE-425
Express Worldwide Shipping
The O2 Sensor Eliminator Kit by SmartMoto replaces the factory oxygen sensor in a motorcycle's exhaust. The kit allows the bike's ECU to bypass the limitations of the oxygen sensor system and use the installed air-fuel map. This results in improved throttle response, smoother power delivery, and more torque available in the low and mid RPMs.
This kit is designed for motorcycles that follow older emissions standards, such as Euro 2, Euro 3 and in some models up to Euro 4.
Motorcycle manufacturers install the oxygen sensor system to achieve stoichiometric air-fuel ratio. This is good for emissions but converting a bike for trackdays or off-road use means you need to maximise its performance. However, removing the oxygen sensor system triggers an Fi error.
SmartMoto Complete Sets brings an O2 Sensor Eliminator Kit that combines the electronic eliminators and the exhaust plugs in one convenient plug and play package. This results in complete removal of the oxygen sensor system without encountering any Fi errors or performance issues.
Key Features
Improves throttle response, offering smoother power delivery and more torque in the low and mid RPMs.
It supports Fi tuning modifications such as the Power Commander or ECU remapping which require the removal of the oxygen sensor.
Supplements the installation of aftermarket exhaust systems that do not have an oxygen sensor port.
Can be used to replace a malfunctioning Oxygen sensor.
Plug and play design - no wiring modification is required.
The kit contains the number of eliminators and exhaust plugs required to bypass the o2 sensor system on one motorcycle.
Legal Notice!
Installation of this kit is intended for closed circuit competition purposes only. The purchaser of this performance kit acknowledges that it is not intended for street use.
SmartMoto Complete sets is a product development approach that focuses on delivering complete and high-quality kits. To ensure that all eliminator kits are a perfect fit, we conduct thorough research and testing on all the necessary components needed for each modification. This includes stainless steel bolts and washers, special heat-resistant rubber caps, and exhaust blanking plugs. We make sure that all the required components are included in one convenient package. The electronic eliminators are designed with OEM connectors for seamless compatibility, and the electrical parts are protected by durable heat shrink tubing, ensuring long-lasting performance. With SmartMoto, you can count on complete kits that offer flawless compatibility, lifetime durability, and reliable performance.

Ducati > Hypermotard 821 > 2013 - 2015
Ducati > Hyperstrada 821 > 2013 - 2015
Indian > Chief > 2014 - 2020
Indian > Chieftain > 2014 - 2020
Indian > FTR > 2019 - 2020
Indian > Roadmaster > 2015 - 2020
Indian > Scout > 2015 - 2020
Indian > Springfield > 2016 - 2020